Women of VBTS
The seminary provides monthly opportunities for seminary wives to fellowship with faculty wives and other seminary wives. The Women of VBTS exist for the purpose of glorifying God by edifying women through the teaching of the Word, encouraging through fellowship, enhancing through practical knowledge relating to ministry, and embracing the Biblical view and application of womanhood.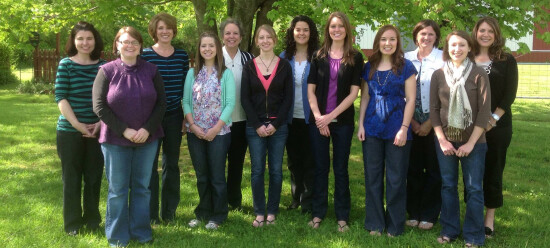 2016-17 Meeting Schedule
Meetings are normally held at the home of Dr. Daniel and Martha Davey. Dress is casual, and childcare is provided. See below for the dates, times, and speakers.
Date

Speaker

Topic

9/15/16

Carrie Foldberg

(ACBC Certified Biblical Counselor)

"An Opportunity to Worship"

10/13/16

Karis Seely

(missionary to Cameroon with husband Dan, VBTS alumnus)

"God's Faithfulness When Ministry Seemed Too Much for Me"

11/17/16

Martha Davey

(Wife of VBTS President Daniel Davey)

Focused Time of Prayer and Thanksgiving Through the Study of Colossians 1


2/7/17

Carrie Foldberg

(ACBC Certified Biblical Counselor)

"Disordered Eating and Body Image"

3/9/17

Virginia Barron & Carolyn Litchfield

"Ministry to the Grieving Widow"

April TBA

TBD

Dinner Honoring the Wives of the 2017 Graduates