Exposition of Matthew
In his Dec. 2010 article in JETS, David Turner writes, "Matthew is a Gospel written to followers of Jesus, most of whom happen to be Jewish, explaining to them how Jesus is related to Moses and the prophets and calling them to obey Jesus' universal mission mandate, a mandate in keeping with Israel's historic biblical role in the world" (698).
Exposition of Matthew will examine the structure, content and theology of Matthew's Gospel. In addition, the place and significance of Matthew in relationship to the other Gospel accounts will be addressed. This course is primarily an interpretation of the English Text with certain words and concepts highlighted from the original languages. It is designed to prepare the graduate student to accurately understand the message of Matthew and to authoritatively communicate this book in a classroom or pastoral setting. Particular emphasis will be given to Matthew's understanding of the kingdom of God in light of Jesus' death, burial, resurrection, and ascension instruction in the final verses of the Gospel. This course is offered with the heart-felt prayer that every student will gain a greater love for the person and work of Jesus Christ. The student will:
Be introduced to Matthew's Gospel and his purpose for writing. Matthew's purpose will be compared to the other Gospel accounts of the New Testament.
Understand the unique structure and content of the Gospel of Matthew which will include the emphasis of Jesus' five major messages recorded in the Book.
Exit the class with a working knowledge of Matthew's terms and meanings for the Kingdom of God.
Grasp and interact on a weekly basis with the writings and exegetical conclusions of David Turner in his commentary on Matthew.
Course Textbooks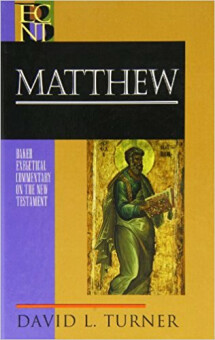 Course Requirements
30% - Reading (Textbook)
20% - Reading (Bible)
25% - Preaching/Teaching Project
25% - Weekly Evaluations