From The Highs to the Lows - Israel Day 1
Today's post is by Jed Kaesnner, VBTS Alumnus, currently on the trip to Israel. For pictures from the trip, visit our Facebook page.
This morning began with a descent from 35,000 ft. into the Tel Aviv airport on the Mediterranean coast. Then it was up through the hills to Jerusalem at 2500 ft. elevation. Next we left the lush side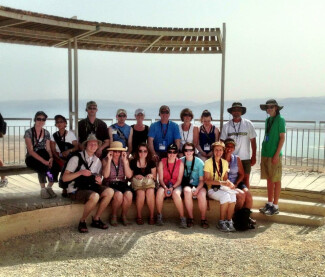 behind and descended through the Judean wilderness to the Israeli side of Bethany Beyond the Jordan, where John the Baptist most likely carried on his ministry.
From there we descended further to Qumran on the Northern edge of the Dead Sea, where the Essenes lived and stored their now-famous Dead Sea Scrolls. The Dead Sea is the lowest place on earth at 1400 ft. below sea level! After that we drove down the coast for awhile before stopping at Ein Gedi. The water from Ein Gedi shoots a narrow thread of life over the beautiful David's Falls, but despite its sustaining powers, the area around it is still a barren, hot, and dry land. But one day the waters will rise above their current levels, when Yahweh again blesses the Land and restores his blessing to it (Ezk. 36 & 47).
Finally, we continued down the coast to our hotel on the very shores of the Dead Sea. While the salt pools lifted our spirits (and bodies), it's time to lay our heads down and go to bed!