Sea of Galilee & Sermon on the Mount - Israel Day 5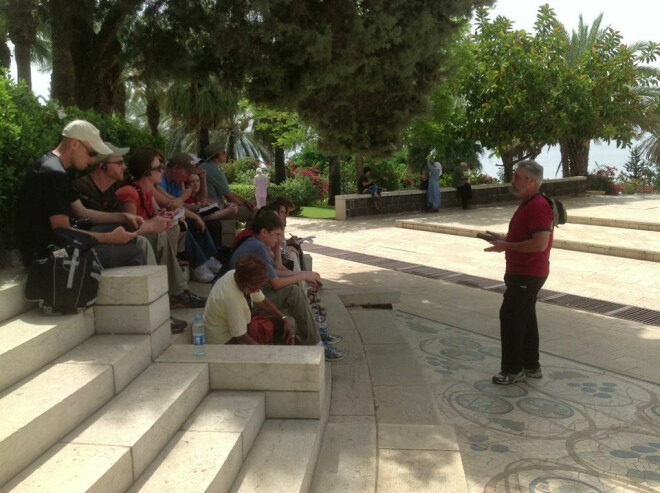 Today's blog post was written by Karis Seely, wife of VBTS alumnus Dan Seely. Dan and Karis Seely are missionaries in Cameroon and serve as theological educators at Cameroon Biblical Seminary.
Today, our Israel experience continued with a morning boat ride on an ancient style boat on the Sea of Galilee. I don't have sufficient words to speak of the reality of being where Jesus was in a boat 2000 years ago overlooking the places where most of His earthly ministry was spent. When we got to the middle of the sea, we sat there for a bit while the words from Luke 8 of Jesus calming the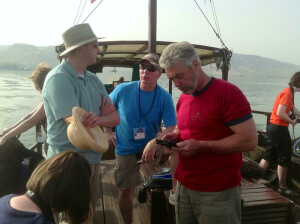 storm on the Sea of Galilee and Matthew 11:20-30 were read (we could see Chorazin, Bethsaida, and Capernaum). We then sang "It is Well With my Soul" as a group, and it brought tears to my eyes as emotion washed over me. It's good to remember that this trip is not about me, but it sure does impact my thoughts, heart, and emotions.
As we continued across the sea, the boat played music and we sang "Shout to The Lord," "Lord I Lift Your Name on High," and "How Great Thou Art" while thinking about Jesus telling the disciples to throw their nets on the other side of the boat, the swine plunging into the Sea of Galilee, Jesus walking on the water to the disciples in their boat, and Jesus on the shore of Galilee after his resurrection (when he asked Peter, "Do you love me?") Incredible to worship The Lord there.
We then saw a 2000 year old boat (determined by a 1st century mosaic of the boat that was discovered and carbon 14 testing - in case you're skeptical like I can be as to how they know that). Whom did it belong to? To Jesus and His disciples? To other fisherman? Was it used for battle during the Jewish rebellion against the Romans? It's a mystery.
Next, we proceeded to the Mount of Beatitudes where Christ delivered the Sermon on the Mount. We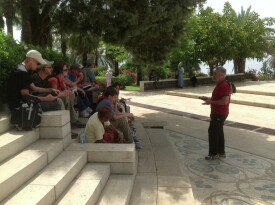 read Matthew 5 and meditated on what it means to be a true disciple. These words are interesting as we thought of the Jewish hope for a political savior as well as the thought of the disciples identifying with the persecuted prophets before them. What a powerful sermon – both in its context and for today.
We then traveled to the ruins of Chorazin, a city rebuked for its lack of faith. We read Scripture in the ruins of the synagogue there and talked about outward ornation and seats of honor not being what Christ wants. We were told again that the synagogue did not replace the temple in Jerusalem but served more like a community center.
Next stop was Tabgha, which is the likely spot Jesus appeared to His disciples (after His resurrection). A Catholic church has been built there on top of a large stone that looks like a table and there is a statue of Jesus and Peter with a plaque that says "Feed my sheep." In John 21, Jesus restored Peter from the shame of his previous denials and tested the depth of his love by asking three times, "Do you love me?"
Our last stop before lunch was the ruins of Capernaum, the center of Jesus' activity for 18-20 months after being rejected at Nazareth. At Capernaum, we saw the ruins of the synagogue where Jesus did much of his teaching (Matthew 4:13-16; Luke 4:31). The foundation is from the time of Christ but another synagogue was built on top of it during the Byzantine era. Luke 4:38 speaks of Jesus going to Peter's home where Peter's mother-in-law was sick. We saw the ruins of what they believe was Peter's house. Jesus healed Peter's mother-in-law and many others in this city as well. More of Jesus' recorded miracles were performed in Capernaum than in any other city, yet they did not believe in Him (Matthew 11:23).
Lunch was a welcome break from the heat. We ate at a restaurant on the Sea of Galilee that has its own fishery. A delicious meal starting with pita bread pockets with amazing hummus and veggies. Then, we were served tilapia - not just a filet but the whole fish. We had fun joking about the fish heads. Personally, I love meal time here on this trip, not just for the wonderful spread of food but most of all for the fellowship with the group. We have been getting to know each other and talking about our thoughts of the trip and just encouraging each other in the Lord. Lots of conversations about Scripture on this trip.
After lunch, some of the group went to Tiberias while the rest of us went swimming in the Sea of Galilee. Yesterday when we swam there, the water was very calm which, after having swam two days earlier in the Mediterranean Sea, left us feeling cooled off but not particularly thrilled with the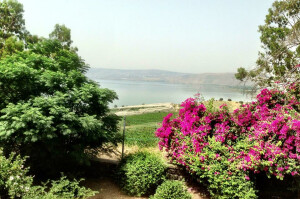 experience. Today, however, the water was choppy and we thoroughly enjoyed bobbing up and down in the waves. We remarked several times what it would be like during a storm. This was just from a little wind, and we were glad it had been calm when we were on the boat. Others have said it, but I have to say it again. Being here changes your thinking as you read the Bible.