SPRING 2022 | 3 CREDIT HOURS | RESIDENT & ONLINE
This course will build upon the prerequisite introductory course, Introduction to Biblical Counseling. The focus is on current/pertinent issues in biblical counseling. Specifically, it seeks to develop in much greater detail—through a commitment to the sufficiency of Christ and Scripture—some of the common counseling issues that biblical counselors face with a strong emphasis on a careful attention to the biblical counseling method when confronted with a difficult counseling issue. The subjects addressed in this course include, inter alia, a close look at the dynamic operations of the heart, issues of sexuality, domestic abuse, anger, the nature of temptation, various counseling issues, case studies, critical interaction with certain entries in the DSM-V, and psychological terms as well as such sins and predispositions presented under a variety of secular labels.
As a result of taking this course, the student will be able to demonstrate familiarity with the dynamics of the human heart with regard to select counseling issues as well as a basic level of competency in strategizing and approaching these in a way that will be helpful for counselees struggling and suffering with these same issues. The student will become conversant with key works that currently come to bear on key biblical counseling issues. In addition, the student will be able to knowledgeably discuss the secular notion of "disorders" in contrast and in comparison to the doctrine of sanctification. 3 credit hours.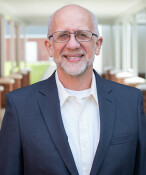 Dr. Roger DePriest serves as the Faculty Associate in Biblical Counseling at Virginia Beach Theological Seminary; Dr. DePriest has taught in an adjunct role for the seminary since 2000. He is the Executive Director of Grace Biblical Counseling Ministry, an ordained Baptist minister, and a Level 2 certified ACBC counselor. Dr. DePriest earned his academic degrees at Cedarville University (BA), Talbot Theological Seminary (MA), and Clark Summit University (PhD). Read more....
Dr. DePriest can be contacted at
35% – Reading (approx. 1500 pages)
10% – Participation & Discussion
30% – Written Assignments for primary textbooks (Pierre)
15% – Written Assignments for Counseling the Hard Cases
10% – Written Assignments for additional reading