Roger G. DePriest, Ph.D.
Faculty Associate, Biblical Counseling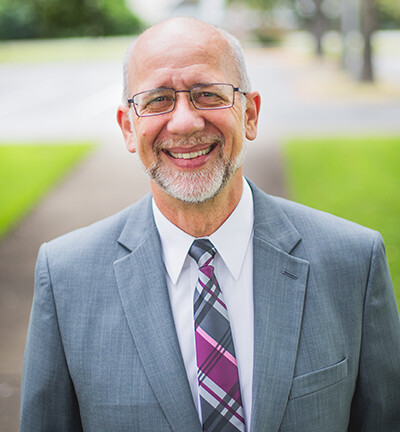 Dr. DePriest currently serves as Faculty Associate at Virginia Beach Theological Seminary and has served in an adjunct role for the seminary since 2000. He is the Executive Director at Grace Biblical Counseling Ministry, an ordained Baptist minister, and a Level 2 certified ACBC counselor. He holds a Ph.D. in Biblical Studies (New Testament) from Clarks Summit University in Clarks Summit, PA; an M.A. in Theological Studies from Talbot Theological Seminary in La Mirada, CA; and a B.A. in Psychology from Cedarville University in Cedarville, OH. He has been in full-time ministry for nearly 40 years, serving 20+ years in pastoral ministry (first as a youth pastor and then as a pastor/church-planter), more than twelve years in jail and prison ministry (first as Chaplain and then as Regional Director), and in 2012 he founded Grace Biblical Counseling Ministry of Virginia Beach, Virginia, where he currently serves as the Executive Director. In addition to serving as an Faculty Associate with Virginia Beach Theological Seminary, he is also an adjunct faculty member at Clarks Summit University in Clarks Summit, PA, Bob Jones University in Greenville, SC, and Grace Christian University in Grand Rapids, MI. Roger and his wife Susann have five sons and ten grandchildren.
Bibliography
2019. Review of
Best Bible Books: Newt Testament Resources
by John Glynn and Michael Burer.

Journal of Ministry and Theology,
23, no. 1 (Spring): 182–84.
2018a. Review of
Constantine Tischendorf: The Life and Work of a 19

th

Century Bible Hunter
by
Stanley E. Porter. Journal of Ministry and Theology 22. no.1 (Spring): 217–19.
2018b. Review of Mark Through Old Testament Eyesby Andrew T. Le Peau. Journal of Ministry and
Theology 22. no.2 (Fall): 197–200.
2018c. Review of Preaching as Reminding: Stirring Memory in an Age of Forgetfulness. Journal of
Ministry and Theology 22. no.2 (Fall): 224–26.
2017. Review of The Dynamic Heart in Daily Life: Connecting Christ to Human Experience.
Greensboro, by Maarten Jeremy Pierre. Journal of Ministry and Theology 21. no.2 (Fall): 205–
09.
2012. "An Examination of Literary Chiasms in the Fourth Gospel in the Light of the Discourse
Function
of Verbal Aspect." Ph.D diss., Clarks Summit University.