Fall 2022 | 3 credit hours | Resident & Online
Introduction to Biblical Counseling is an entry level course designed to introduce the student to biblical counseling (1) as a movement, including its key leaders and their writings, and (2) as a distinctive means of discipleship, with particular focus on methodology and the most common issues encountered by counselors.
As a result of taking this course, the student will be able to trace the history of the modern biblical counseling movement, understand how biblical counseling coheres with and is a subset of Christian discipleship, recognize and apply the basic elements of biblical counseling and apply them to case studies, and, finally, develop a general understanding of the broad categories of personal and interpersonal issues that are indicative of the human condition.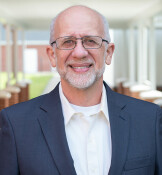 Dr. Roger DePriest serves as the Faculty Associate in Biblical Counseling at Virginia Beach Theological Seminary; Dr. DePriest has taught in an adjunct role for the seminary since 2000. He is the Executive Director of Grace Biblical Counseling Ministry, an ordained Baptist minister, and a Level 2 certified ACBC counselor. Dr. DePriest earned his academic degrees at Cedarville University (BA), Talbot Theological Seminary (MA), and Clark Summit University (PhD). Read more....
Dr. DePriest can be contacted at
35% – Reading (1500 pages)
10% – Participation & Discussion (weekly)
30% – Writing Assignments (3 @ 1200–1700 words each)
12% – Case Analyses
13% – Student-Led Case Study