Christ and Culture is a study of ideological, philosophical, ethical, and theological issues concerning the intersection of the church and contemporary Western culture. The course is an advanced reading and research seminar.
As a result of reading, research, writing, presentation, peer-review, and class discussion, the student will be able to a) articulate a biblical theology of culture, b) evaluate the variety of approaches to cultural issues in the church, c) recognize and respond to cultural pluralism, and d) compose biblically-informed responses to culture that are appropriate for the church. 3 credit hours.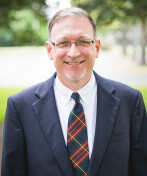 Dr. Eric Lehner is the Academic Dean and Professor of Theology at Virginia Beach Theological Seminary. He has taught at VBTS since 2005 in a variety of roles as Graduate Assistant, Assistant Professor of Historical Theology, and Associate Professor of Historical Theology. Dr. Lehner earned his academic degrees at Tennessee Temple (BA), Detroit Baptist Theological Seminary (MDiv), Virginia Beach Theological Seminary (ThM), and Clark Summit University (PhD). Read more....
Dr. Lehner can be contacted at
40% – Reading (1995 pages)
40% – Writing Assignments (total: 32 pages)
20% – Presentations (4)