SPRING 2022 | 3 CREDITS | RESIDENT ONLY
A continuation of Hebrew Grammar 1, this course majors on vocabulary development, grammar acquisition, and increased dexterity in reading the Hebrew Bible. It sets the stage for the exegesis of the Hebrew Scriptures. As a result of taking this course, the student will be able to: (a) exhibit a mastery of core Hebrew vocabulary, (b) recognize the basic grammatical components of the Hebrew Bible, (c) read aloud the Hebrew from any OT passage, and (d) translate assigned prose selections from the Hebrew Scriptures. 3 credit hours.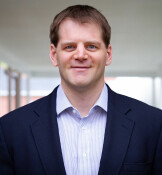 Dr. Mark Hassler is the Associate Professor of Old Testament at Virginia Beach Theological Seminary. Dr. Hassler also serves as Director of Publications and Field Archaeologist for the Shiloh excavations in Israel. He was the editor of the Near East Archaeological Society Bulletin (2016–19), a peer-reviewed journal established in 1958. He serves on the board of directors for the Near East Archaeological Society and as the president of the Evangelical Theological Society's eastern region. Dr. Hassler earned his academic degrees at Montana Bible College (BA) and The Master's Seminary (PhD, ThM, and MDiv). Read more....
20% – Typed Translations (4)
18% – Oral Translations (6)
27% – Exams (3)
12% – Quizzes (12)
18% – Workbook Exercises (6)
3% – Presentation (1)
2% – Structural Diagram


As an Amazon Associate, VBTS earns from qualifying purchases. All textbook links are paid links.