Fall 2021 | 3 credit Hours | Resident & Online
This course is an introduction to the three foundational subjects of systematic theology. As a result of taking this course, the student will be able to: 1) demonstrate comprehension of the scope and function of theological method. 2) compose theological expressions in terms that are conscious of and consistent with one's own theological method. 3) assess the validity of competing theological positions. 4) explain core doctrinal beliefs in the areas of theological method, theology proper, and bibliology.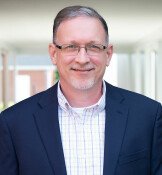 Dr. Eric Lehner is the Academic Dean and Professor of Theology at Virginia Beach Theological Seminary. He has taught at VBTS since 2005 in a variety of roles as Graduate Assistant, Assistant Professor of Historical Theology, and Associate Professor of Historical Theology. Dr. Lehner earned his academic degrees at Tennessee Temple (BA), Detroit Baptist Theological Seminary (MDiv), Virginia Beach Theological Seminary (ThM), and Clark Summit University (PhD). Read more....
Dr. Lehner can be contacted at
25% – Reading (1300 pages)
25% – Quizzes
50% – Writing Assignments (3 @ 5–6 pages)