The Pastor & His Family
Held on March 23, 2023
See Links Below for Audio of the Sessions
Schedule of Events
8:30am: Check-in, Light Breakfast, Coffee, & Fellowship
Dr. Newcomer will reflect personally and scripturally on the blessings of serving with his wife, Lorie, through 30 years of pastoral ministry. He will also give a direct challenge for each pastoral couple to see afresh the wonder, challenges, grace, and privilege of serving the local church together as shepherd and helper.
10:00am: Coffee Break
Difficulties arise in all pastoral ministry which both the pastor and his wife must navigate with wisdom and grace. Both sessions will focus on the unique aspects of this for men and women as well as the mutual support and endurance that the Chief Shepherd provides.
11:00am: Coffee Break
When ministry trials and criticisms come, the suffering and the critics must be stewarded through the lens of a grace-filled clarity. Additionally, a concrete plan for before, during, and after the trial must be in place, allowing the pastor and his wife to thrive because of the suffering.
12:30pm: Free Luncheon
---
Speaker profile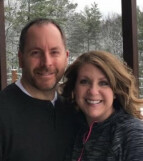 Dr. Jim Newcomer (BA, MA, DMin):
Pastor Jim began his ministry at Calvary in October of 2016. Born in Detroit, he grew up in Warren and then Clarkston until he left for college in 1985. He and Lorie (from Lapeer) were married in 1989 and now have 3 adult children. He entered pastoral ministry in 1994 and has served as a youth pastor (6 years) and an executive pastor (11 years). He has also held two senior pastorates--one in North Carolina (5 years), and now in Michigan. In addition to pastoral ministry, Jim has been actively teaching pastoral theology and biblical counseling on both the undergraduate and graduate levels in several institutions since 2000. Jim is a certified counselor for both the Association of Certified Biblical Counselors as well as the Association of Biblical Counselors.
---
Please register below. Registration is free. The first 50 who register will receive the book Pastors and Their Critics (men) and Liberating Ministry from the Success Syndrome (women). Childcare can be provided for preschool children if that will provide the opportunity for your wife to attend with you. Additionally, all adults are invited to enjoy a free lunch at the conclusion of the pastor's conference.