VBTS Pastors' Conference
Biblical Counseling and the Church
October 24, 2019
Schedule of Events
8:30am: Registration and Light Breakfast
9:00am: Randy Patten – "Remember the Basics"


A common denominator among effective biblical counselors is skill in six key areas. In this workshop, Randy will identify and explain each of the six and offer practical advice on how to tune-up your skills in each one.
10:00am: Break
10:30am: Randy Patten – "Evangelize or Disciple: Discerning a Counselee's Spiritual Condition"


Is the counselee a true born-again Christian or not? Your answer to that question should affect how you minister to him or her at several strategic points. In this workshop, Randy will provide specific direction about how to address this important challenge.
Virginia Beach Theological Seminary is pleased to partner with Colonial Baptist Church to host the VBTS Pastors' Conference and Luncheon on Thursday, October 24, 2019. We are excited to have Randy Patten as our guest speaker.
Randy Patten is the President of TEAM Focus Ministries, an organization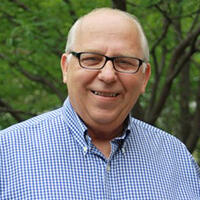 that seeks to increase the discipleship effectiveness of evangelical churches and Christian leaders through public proclamation of Scripture and private coaching. For many years Randy was the executive director of NANC, currently known as the Association of Biblical Counselors (ACBC), where he is now the Director of Training Emeritus.
Randy has a B.A. degree from Cedarville University, Ohio, and Masters Divinity from Grace Theological Seminary, Winona Lake, Indiana and has done doctoral studies at Trinity Evangelical Divinity School, Deerfield, Illinois. He is serving his 30th year as a trustee of Cedarville University and is a founding board member of the Biblical Counseling Coalition. Randy was a contributing author to "Christ-Centered Biblical Counseling" (Harvest House, 2012), "Scripture and Counseling" (Zondervan, 2014), and "Biblical Counseling and the Church" (Zondervan, 2015).
Please register below. Registration is free. The first 50 who register will receive the book Biblical Counseling and the Church: God's Care through God's People, in which Randy Patten is a contributing author. Additionally, everyone in attendance is invited to enjoy a free lunch at the conclusion of the pastors' conference.
REGISTRATION