SPRING 2022 | 3 CREDIT HOURS | RESIDENT & ONLINE
Church & End Times is an introductory survey of ecclesiology (the doctrine of the church) and eschatology (the doctrine of End Times). With due diligence given to the Course Requirements, students will leave Church & End Times with an appreciation of the nature and ministry of the Christian church and the foundational concepts for understanding a Biblical framework for End Times events. In more particular terms, students will be able to a) identify the origin of the church, b) identify the nature of Christian ministry as described in the Bible, c) identify and distinguish various eschatological systems, and d) analyze the Biblical data concerning covenants and End Times. 3 credit hours.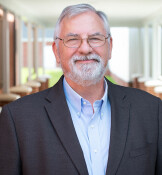 Dr. Michael Windsor serves as the Professor of Church History and the Director of Library Services at Virginia Beach Theological Seminary. He is a member of the original VBTS faculty and has served at the seminary since its first classes in 1996. Before coming to VBTS, Dr. Windsor ministered for 16 years as a pastor in Wisconsin and Minnesota. Dr. Windsor earned his academic degrees at University of Wisconsin-River Falls (BA, MA), University of Wisconsin-Milwaukee (MLIS), and Central Baptist Theological Seminary of Minneapolis (MDiv, ThM, ThD). Read more....
Dr. Windsor can be contacted at
20% – Course Reading (1500 pages)
80% – Research Papers and Classroom Presentations (2)


As an Amazon Associate, VBTS earns from qualifying purchases. All textbook links are paid links.