Michael H. Windsor, Th.D.
Professor of Church History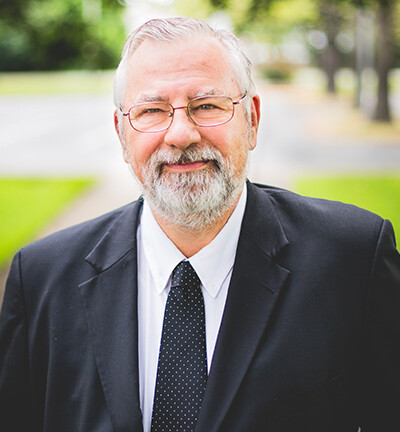 Michael H. Windsor is the Professor of Church History and the Director of Library Services at Virginia Beach Theological Seminary, where he has taught since 1996.
A native of Wisconsin, Dr. Windsor served in a variety of ministry roles in Wisconsin and Minnesota prior to coming to VBTS. At the conclusion of his initial seminary studies, Dr. Windsor accepted the call to become pastor of Grace Baptist Church in Boyceville, Wisconsin, where he served four years. He later became pastor of Blaine Baptist Church in Minneapolis, Minnesota, where he ministered for twelve years while earning his additional seminary degrees. During this time he also taught as a faculty associate and later as assistant professor at Central Baptist Theological Seminary of Minnesota and at the Twin Cities Bible Institute. Dr. Windsor has also taught church history and theology classes around the world, including India, Romania, Russia, and southeast Asia. He is a member of the original faculty at VBTS and has served at the seminary since its first classes in 1996.
Dr. Windsor specializes in Baptist history and polity, Reformation history, and twentieth-century American fundamentalism. As director of library services, he oversees the growing theological research library located on the VBTS campus. Dr. Windsor served as a commissioner with the Transnational Association of Christian Colleges and Schools from 2010–2013. In addition, he is an active participant in the annual Bible Faculty Leadership Summit and teaches an adult Bible study class at Colonial Baptist Church.
Dr. Windsor and his wife, Virginia, live in Virginia Beach. They have four grown sons. You can reach Dr. Windsor by email at
Bibliography
"The History of Fundamental Baptists, Part II: Significant Baptist Leaders in Early American
Fundamentalism," in Baptist History Celebration 2007: A Symposium on our History, Theology,
and Hymnody, edited by Gary W. Long, 321–24. Springfield, MO: Particular Baptist Press, 2008.
"An Introduction to the History of Fundamentalism in America." Conservative Baptist Theological
Studies 1 (2006): 1–2.
"Solus Christus: Is There Another Savior?" in Missions in a New Millennium: Change and Challenges in
World Missions, edited by W. Edward Glenny and William H. Smallman, 157–72. Grand Rapids:
Kregel, 2000.
"Valiant for Truth: The Ministry of Richard Volley Clearwaters." ThD diss., Central Baptist Theological
Seminary of Minnesota, 1991.
"The Christology of Acts 2:22-36." ThM thesis, Central Baptist Theological Seminary of Minnesota,
1985.
"The Role of Dr. Balthasar Hubmaier During the Early Years of the Reformation." MA thesis,
University of Wisconsin–River Falls, 1981.
"Jesus of Nazareth: The Supreme Prophet of God." Central Bible Quarterly 18 (Spring 1975): 18–23.