Fall 2022 | Tuesdays & Fridays, 8:00–9:30am | 3 credit hours
Greek Grammar is taught over two semesters. Greek Grammar 1 is intended for those who have had no previous study (or those who need an extensive review) of Koine Greek. The course introduces students to basic Greek morphology, diagnostics needed to recognize the semantic value of inflected forms, and elementary translation of the Greek NT.
Students giving requisite attention to the course requirements and actively participating in the course discussions, translation exercises, and vocabulary drills will emerge from this course with the ability to: (1) write and pronounce NT Greek terms and phrases, (2) identify key morphological features that signal different grammatical functions and semantic value based on an introductory level of Greek vocabulary, and (3) perform elementary translation of the Greek New Testament.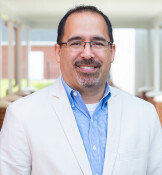 Dr. Thomas Dailey is the Professor of New Testament at Virginia Beach Theological Seminary. He has served at VBTS since 1999 in various roles as the Instructor of New Testament, Assistant Professor of Systematic Theology, Associate Professor of Biblical Theology and Exegesis, and Associate Professor of New Testament. He received his MDiv from Detroit Baptist Theological Seminary, his ThM from Virginia Beach Theological Seminary, and his PhD from Clark Summit University. Read more....
Dr. Dailey can be contacted at
30% – Workbook Exercises
30% – Vocabulary & Grammar Quizzes
20% – Midterm Exam
20% – Final Exam