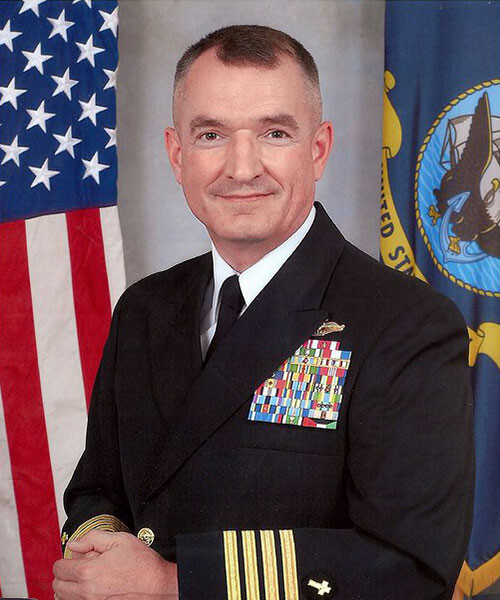 Capt. Steven D. Brown (Ret.)
Adjunct Faculty,
Military Chaplaincy
A native of Clawson, Michigan Captain Brown began his military career by enlisting in the United States Marine Corps Reserve in February 1980. He served as a "Cobra" helicopter mechanic (MOS 6114) in HMA-773, MAG-42 for five years drilling at NAS Atlanta. While serving as a Marine reservist he also served for three years as Associate Pastor of Grace Baptist Church in Panama City, Florida. He returned to Bob Jones Seminary to complete his Master of Divinity degree and was commissioned an Ensign, Theological Student Program Officer (TSPO) in August 1985. CAPT Brown superseded to active duty in the Navy Chaplain Corps in January 1987.
In January 1987 he reported as Staff Chaplain, U S Naval Station Guantanamo Bay, Cuba where he served from January 1987-July 1989. He served as Battalion Chaplain at 2D Medical Battalion, 2D FSSG, Camp Lejeune, NC from August 1989 - May 1991. Chaplain Brown deployed to Saudi Arabia and Kuwait during Operations Desert Shield and Storm. His Battalion constructed the "Al Khanjar" Desert Trauma Center, which received most of the Marine casualties and numerous Enemy Prisoners of War casualties during the first Gulf War.
In June 1991 he reported as Command Chaplain, USS SAN JACINTO (CG 56). Chaplain Brown made Mediterranean, UNITAS, and BALTOPS deployments while serving aboard "SAN JAC." He subsequently was selected to attend Post-Graduate School at Trinity International University in Deerfield, Illinois where he graduated Summa Cum Laude with a Master of Religious Education Degree. CAPT Brown then reported to Marine Corps Air Station Iwakuni, Japan in July 1995 serving as Deputy Command Chaplain and Protestant Pastor. He then moved to Sasebo, Japan where he reported as Command Chaplain, USS BELLEAU WOOD (LHA 3) in March 1998, "swapping hulls" to USS ESSEX (LHD 2) in July 2000 where he served until June 2001.
In July 2001 Chaplain Brown reported as District Chaplain, Ninth Coast Guard District, Cleveland, Ohio. After 911, he deployed to New York City where he served as part of a Coast Guard Chaplain Emergency Response Team (CERT) providing ministry at Ground Zero, the Family Support Center, and at the Disaster Mortuary Team (DMORT) facility. CAPT Brown then reported to U.S. Marine Corps Forces Command in Norfolk in April 2004 serving as Deputy Force Chaplain. He returned to sea duty as Command Chaplain, USS HARRY S. TRUMAN (CVN-75) in February 2006. While aboard HST, he deployed as an Individual Augmentee to Combined Forces Command - Afghanistan, and Combined Security Transition Command - Afghanistan from September 2006 through March 2007 where he served as the Afghanistan Theater Chaplain.
Chaplain Brown then reported to U S Naval Construction Forces Command/FIRST Naval Construction Division September 2007 – March 2010 where he served as the senior "Seabee" chaplain. CAPT Brown assumed his duties as Second Marine Division Chaplain in March 2010 and subsequently deployed as the Regional Command (Southwest) /II MARINE EXPEDITIONARY FORCE (Forward) Chaplain in Helmand Afghanistan from March 2011- March 2012.
Captain Brown's personal decorations include the Legion of Merit (with Gold Star), the Defense Meritorious Service Medal, the Meritorious Service Medal (with 2 Gold Stars), Navy-Marine Corps Commendation Medal (with 3 Gold Stars), the Coast Guard Commendation Medal (with Operational Device) and the Navy Marine Corps Achievement Medal.
CAPT Brown retired on 1 February 2013 after almost 33 years of active and reserve Navy and Marine Corps service. He has assumed responsibilities as the President of Associated Gospel Churches (AGC) located in Greenville, SC. AGC currently endorses 100 active duty and reserve military chaplains.
He is married to the former Sandra Elaine Jones and they have 5 children, Matthew, Joshua, Stephanie, Steven II, and Erika.
Chaplain as a Staff Officer describes in detail the Staff Officer Responsibilities of the Military Chaplain. While the Military Chaplain functions as a Pastor, Missionary, and Evangelist in the execution of the Command Religious Program (CRP), it is often the Chaplain's Staff Officer expertise that ultimately enables the cultural integration and successful execution of the CRP. Read more....
Introduction to Military Chaplaincy is an introduction to the history, culture, benefits, challenges, and opportunities of the Military Chaplaincy. Regardless of the apparent impossibility of gaining entry to "restricted access nations and institutions," the Great Commission remains in effect. Read more....
Military Chaplain Ministry describes in detail the Military Command Religious Program (CRP). The Military Chaplain functions as a Pastor, Missionary, and Evangelist in the execution of the Command Religious Program. Usually chapel-centric, the CRP must be comprehensive, command approved, and enduring. It must also be tailored to the unique giftedness of each Chaplain. Read more....
DD, BJU Seminary
DD, Southern California Seminary
MRE, Trinity International University
MDiv, BJU Seminary
MA, BJU Seminary
BA, Bob Jones University
President/Endorser, Associated Gospel Churches, 2012–present
Adjunct Faculty, Virginia Beach Theological Seminary, 2014–present
Adjunct Professor, BJU Seminary, 2019
Chaplain, US Navy, 1986–2013
Associate Pastor, Grace Baptist Church (Panama City, FL), 1981–84