New Testament Exposition Commentary (NTEC)
VBTS President Dr. Daniel Davey is the Senior Editor and contributing author for the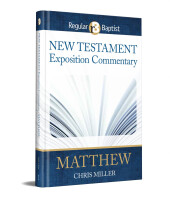 forthcoming New Testament Exposition Commentary series, to be published by Regular Baptist Press. The first commentary on the gospel of Matthew by Dr. Chris Miller (Cedarville University) is scheduled to be published in 2023. The second commentary on the Letter to the Romans by Dr. Daniel Davey is scheduled to be published in 2024. Two commentaries are planned to be released every subsequent year.
The series will be written for Christians in the local church—whether pastor, teacher, small group leader, or individual member. Each volume will provide a readable, verse-by-verse guide through each New Testament book from a literal, grammatical, historical hermeneutical framework, and a study guide will be offered to give practical advice on how to teach each biblical chapter. The authors are skilled Baptist pastors and professors who have dedicated their lives to the study of Scripture and are fully committed to local church ministry.
Matthew
Cedarville University
Senior PRofessor of Biblical Studies
Dr. Miller has taught Bible at the college level for 38 years, and he has been at Cedarville since 1991. Dr. Miller received his academic degrees at Tennessee Temple (BA), Grace Theological Seminary (ThM), and Dallas Theological Seminary (PhD). Click here to read more....
---
Romans
Virginia Beach Theological Seminary
President
Dr. Davey has served as the President of Virginia Beach Theological Seminary since its inception in 1995. He is also the Professor of Bible Exposition at VBTS. He also has over 30 years of pastoral ministry experience. Dr. Davey received his academic degrees from Liberty University (BA), Detroit Baptist Theological Seminary (ThM), and Central Baptist Theological Seminary in Minneapolis (MDiv, ThD). Click here to read more....
For information about additional authors, please click here.
For the Church: The purpose of this series is to strengthen the local church to accurately teach the books of the New Testament.
Conservative Approach: This series will employ a consistent literal, grammatical, historical hermeneutic.
Affordable: Each commentary for this series will be sold for under $30.
Concise: Each commentary is in the range of 300 pages.
Digital Resources: All commentaries will be available in digital formats (i.e. Kindle) with supplemental online study guides.
The projected commentary release schedule is the following:
| | |
| --- | --- |
| 2023 | Matthew – Chris Miller |
| 2024 | Romans – Daniel Davey |
| Forthcoming | Click Here |