Daniel K. Davey, Th.D.
President, Professor of Bible Exposition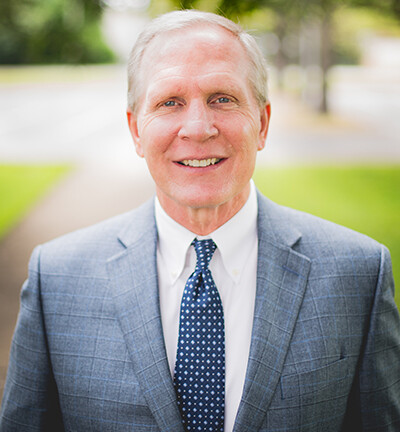 Daniel K. Davey is the President and Professor of Bible Exposition at Virginia Beach Theological Seminary. He has taught students and led the seminary since its inception in 1995.
Following his seminary studies Dr. Davey accepted a call in 1982 to become associate pastor at Colonial Baptist Church, the church which Dr. Davey's father, Keith Davey, had started in January 1979. After serving for five years with his father, Dr. Davey accepted the call in 1987 to become senior pastor following his father's transition to pursue missions. In 1993, God began to burden Dr. Davey's heart with a focus toward "sharpening servants for global ministry." In 1995, Central Baptist Theological Seminary of Virginia Beach was founded, and in the fall of 1996 seventeen students enrolled. For nearly two decades the seminary has prepared men and women to serve Christ and His church. In 2013 the seminary changed its name to Virginia Beach Theological Seminary. In 2015, after 33 years of pastoral ministry at Colonial Baptist Church, Dr. Davey resigned from the senior pastorate to focus his full-time efforts on the presidency of Virginia Beach Theological Seminary.
The alumni of Virginia Beach Theological Seminary are now serving in a number of states and in countries around the world. Dr. Davey reflects on how God has blessed the ministry: "As I look back over these years, there is no greater ministry joy to my heart than VBTS. God has now blessed us with an incredible faculty of gifted men and a staff of gracious servants. By God's grace and for His glory, we now have graduates serving in local churches from Boston, Massachusetts, to Cameroon, Africa. As I ponder the goodness of God, my mind goes to the words of Psalm 105:1: Oh give thanks to the Lord! Call upon His name; make known His deeds among the peoples! So, with this short testimonial, I call attention to the great name of our God who has providentially raised up VBTS to proclaim His glory to the nations by training young men and women to be Christian servants around the world. . . May Christ be praised!"
Dr. Davey and his wife, Martha, reside in Chesapeake, Virginia. They have four grown children and five grandchildren. You can follow Dr. Davey on Twitter at @DanielKDavey.
Bibliography
Romans, New Testament Exposition Commentary (NTEC), Schaumburg, IL: Regular Baptist Press.,
Forthcoming.
Schaumburg, IL: Regular Baptist Press, 2012.
Ambassador Emerald, 2003.
"The Local Church in World Evangelization: Getting a Right Perspective," in
Missions in a New
H. Smallman, 309–328. Grand Rapids: Kregel, 2000.
"A Fresh Look at the Romans Letter." ThD diss., Central Baptist Theological Seminary of Minnesota,
1993.
"The Apostasia of II Thessalonians 2:3." ThM thesis, Detroit Baptist Theological Seminary, 1982.